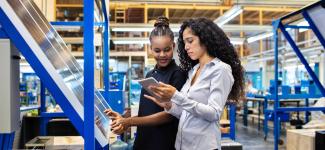 Experiential Learning Hub
Turn experience into advantage
UBC Applied Science's Experiential Learning Hub (E-Hub) is designed to give students an edge in a constantly evolving job market through involvement in a variety of action-based programs and workshops.
Here, students can discover and connect with hands-on learning opportunities that allow them to forge professional networks, enhance written and verbal communication skills, and upgrade their emotional intelligence and inclusive leadership abilities.
Not sure where to start? Use the experience explorer below to discover an opportunity that best fits your unique goals!
What experience are you looking for?
Skills for the Workplace
Now, more than ever, employers are looking for more than just technical skills. Learn more about the skills you will need in the workplace and how you can work toward them as you progress through your degree.