There are a range of volunteer opportunities within Applied Science and the UBC community.
Volunteering is an excellent way to build your network, make new friends, all while giving back in an impactful way.
UBC Opportunities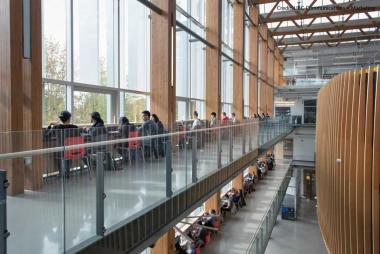 The AMS is an excellent resource for on-campus volunteer opportunities. Whether you want to join a committee, a student club, or be a part of the Zero Waste Squad program, your Alma Mater Society has you covered.
Managed through the UBC Career Centre, CareersOnline hosts a recruiting platform where students can view active volunteer opportunities that support community organizations.
Applied Science Opportunities
Are you interested in volunteering within the Faculty of Applied Science?
Throughout the year there are many opportunities to engage with the Faculty, whether through student mentorship, event support, or guest speaking. To find your fit, please email pd.apsc@ubc.ca.
Imagine UBC
Imagine UBC is the biggest back-to-school event at UBC held on the first Tuesday of the fall semester in September. The day is full of exciting opportunities to meet others and learn about learning at UBC. Sign up to be a leader and help students explore the campus (either virtually or in person), learn more about Engineering, meet a professor, connect with a small group of students from Engineering, and more!
Applications for Orientation Leaders for Imagine 2023 are now open until Sunday, May 07, 2023.