Organized by UBC Engineering departmental clubs or professional association chapters, these events provide students the opportunity to meet and network with UBC engineering alumni and industry professionals from a specific discipline or specialty. 
The Experiential Learning Hub provides coaching, access to resources and funding for student-led Industry Nights.
Benefits:
Image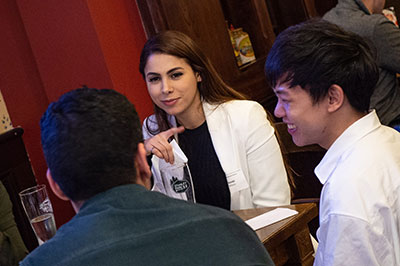 Learn more about what different industries and careers you can pursue within Applied Science

Gain insights and advice from industry members about potential career paths

Make industry connections and expand your professional network

Create a positive impression on those who may potentially hire you one day
We are now accepting proposals for Industry Nights.
There are two types of events proposals, depending on whether your event will be held in-person or virtually. You are required to submit only one event proposal. 

The deadline to apply for support and funding is Friday, Oct 7, 2022. This deadline applies to all events that happen from October to March. No late submissions are accepted. 

Download the In-Person Industry Night Event Proposal here or Virtual Industry Night Event Proposal here and submit it to apsc.pd@ubc.ca before Oct 7, 2022. Please note that you only have to complete Section A. If you would like to fill out the additional sections along with your proposal, you can do so but it is not required
Resources
Past Industry Nights in 2021-2022:
Electrical and Computer Engineering Student Society (ECESS) Industry Night,  November 18, 2021, 6:30 – 9:00pm
UBC CSCE Industry Night, January 28, 2022, 5:00pm)​​​
Manufacturing and Mechanical Industry Night, February 10, 7:00pm
Biomedical Engineering Industry Night, February 16, 2022, 7:00 – 9:00pm 
Integrated Engineering Alumni Night, Mar 1, 2022, 6:00 - 8:00pm, Craft Beer Market False Creek
CHBE X ENVL Industry Night, March 3, 6:30pm
GeoRox Alumni Dinner - CANCELLED
Engineering Physics Alumni Night and Project Fair,  April 6, 202