Organized by UBC Engineering departmental clubs or professional association chapters, these events provide students the opportunity to meet and network with UBC engineering alumni and industry professionals from a specific discipline or specialty. 
The Experiential Learning Hub provides coaching, access to resources and funding for student-led Industry Nights.
Benefits:
Image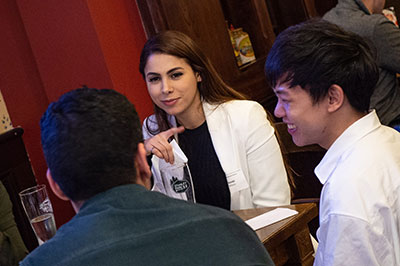 Learn more about what different industries and careers you can pursue within Applied Science
Gain insights and advice from industry members about potential career paths
Make industry connections and expand your professional network
Create a positive impression on those who may potentially hire you one day
Industry Night Applications 2023/24
If you are planning on hosting an Industry Night this academic year, contact APSC PD at apsc.pd@ubc.ca before October 6th, 2023.
Industry Night Event Planning Template
Upcoming Industry Nights in 2023/24
Stay tuned for more info
Past Industry Nights in 2022-2023: 
ECE Industry and Alumni Night: November 17th, 6:30pm 
Engineering Physics Student Association Industry Night: February 3rd, 6:00 - 8:00pm 
Georox Alumni Dinner: January 28th, 6:00 - 10:00pm 
CSCE Industry Night: February 1st, 5:30 - 9:00 PM, 
Biomedical Engineering Industry Night: February 15th, 6:00pm
CHBE X ENVL Industry Night: February 15th, 6:30 – 8:30pm, 
MECH x MANU Industry Night: February 23rd, time TBD
Integrated Engineering Alumni Night: March 2nd, 6:00pm
Resources