The Super Application (SuperApp) consists of a Qualtrics survey, Word and Excel files and combines a number of APSC application processes into one.
Key dates
Opens on September 8, 2021.
Closes on 11:59pm PDT October 15th, 2021.
Decisions will start being communicated mid-October 2021.
Process and timeline
Image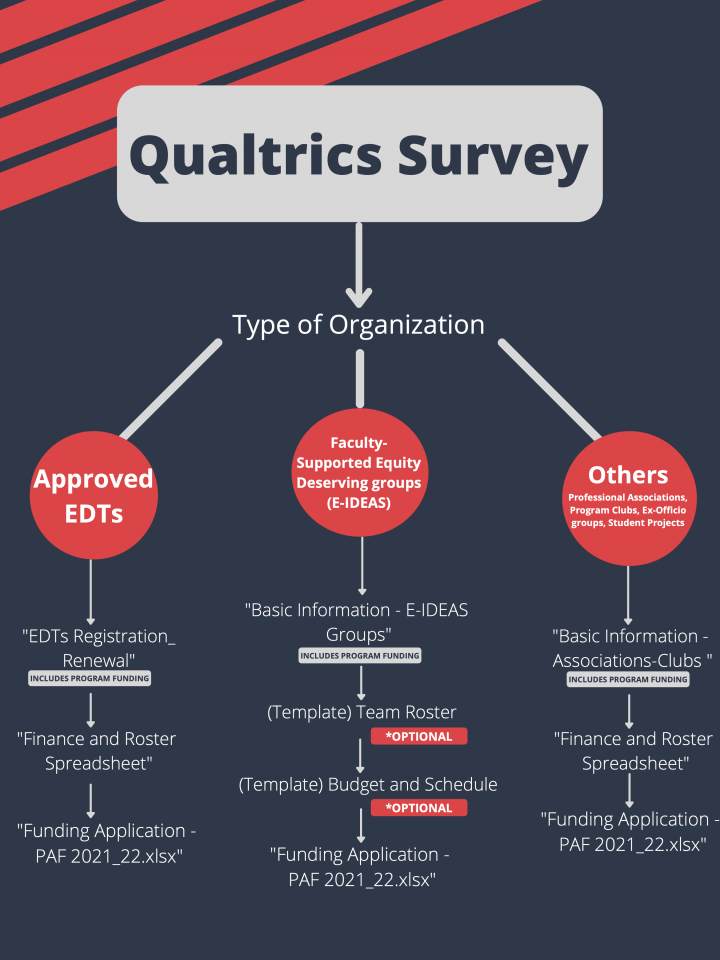 Image
Start your Super Application
Please download the necessary templates below to upload in the survey.
Student groups
The application encompasses student groups who fall under the following categories:
Engineering Design Teams
E-IDEAS (Equity Deserving Student Groups)
Student Clubs/Associations

EUS affiliated, EUS Program Club, EUS Ex-Officio Club, Professional Chapter

Other

eg. independent student projects
** Students seeking funding for travel & conferences are not covered under this application**
Templates
Throughout the Super Application, you will be asked to upload completed templates regarding student group registration and funding. The following templates are listed below for you to complete.
PAF Term 1 Project Applications
Funding Application – PAF 2021-22
Important Notes
Please use the following format to name your application: "STUDENTGROUPNAME Funding Application – PAF_2021_22 (V1)".
Please note that the Funding Application form includes several PivotTables, formulas and drop-down lists. We recommend being careful when copy & pasting information, using drop-down lists and to remember to "refresh" PivotTables.
Please download the sheet and make your edits locally on your own device. Uploading the sheet to a cloud server to collaborate with others damages the formulas.
You can use the resources available on the PAF website such as the PAF Guidelines, PAF Application Handbook and the FAQ page.
If you have any questions or concerns about the PAF Excel form, please contact the PAF Coordinator (paf@apsc.ubc.ca) before submitting your application.
If you are no longer able to go to your competition (virtual or otherwise), PAF competition funds should not be spent. Please do not spend these funds on project costs – your competition funding will be put back into the PAF funding pool for the 2021-2022 cycle.
Submit your application
Resources
The Student Leadership Symposium has a set of mandatory training modules to prepare APSC student leaders, execs, and team leads for their roles in the upcoming year; there is one module for PAF and one for the SuperApp.
September 8 – 30: Mandatory Canvas modules available for completion
More details to follow for the Live Zoom Q&A Sessions for each topic! 
For any questions or concerns, please contact apsc.pdassistant@ubc.ca.